Unsere Öffnungszeiten:
Mo-Fr 9-17 Uhr
Sa-So geschlossen
Tel.: 030/ 26 39 079-0
Fax: 030/ 26 39 079-111
Jetzt CKB Newsletter abonnieren !
E-Mail:
info@c-k-b.eu

Größere Kartenansicht
Buslinien 100, 106, 187, N26 und 200.
Nord.Botschaften/Adenauer Stiftung
M29 Lützowplatz

Klingelhöferstr. 21
10785 Berlin


Explore World Heritage Sites,Enjoy Sichuan Cuisine


This World Tourism Day 2023(27. September), the UNWTO, under the theme "Tourism and green investment" highlights the need for more and better-targeted investments for the Sustainable Development Goals, the UN roadmap for a better world by 2030. China has a vast territory, rich resources and abundant tourism resources. Sichuan Province is famous both at home and abroad as a "traveler's paradise". Today, the China Cultural Center in Berlin recommends to you " Explore World Heritage Sites,Enjoy Sichuan Cuisine". Let us follow the video to enjoy the cultural and food feast of the " Land of Abundance "!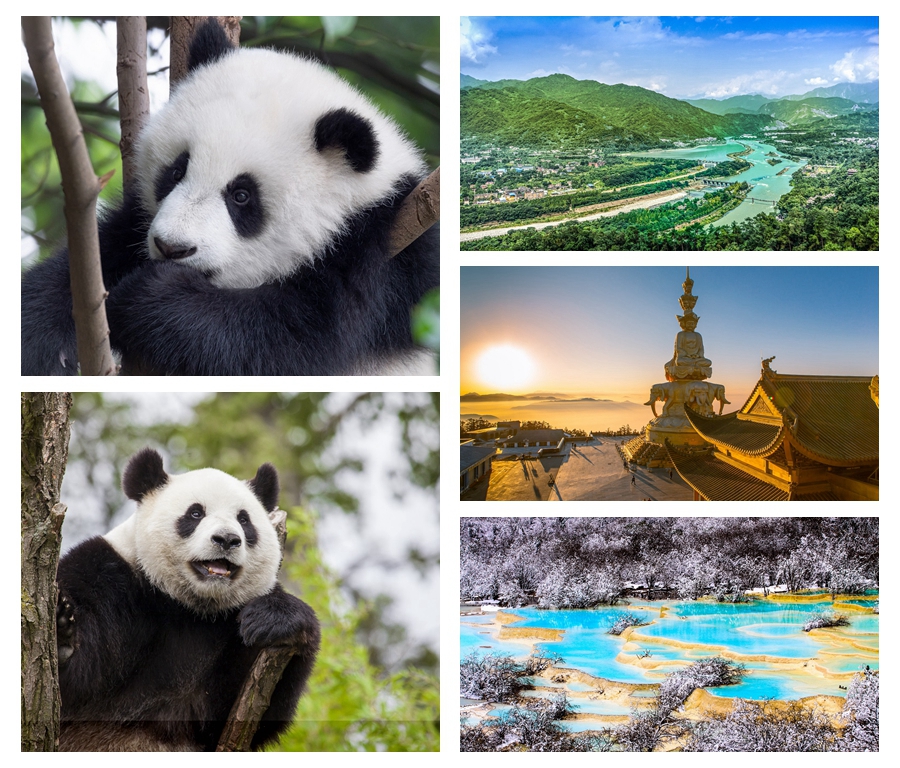 Sichuan Province in China is home to five world cultural and natural heritage sites, each with its own unique charm. The short video "Explore World Heritage Sites and Enjoy Sichuan Cuisine" selects five major world heritage sites,namely Jiuzhaigou, Huanglong Temple Scenic Area, Sichuan Giant Panda Habitat, Qingcheng Mountain-Dujiangyan Irrigation System, and Emei Mountain-Leshan Giant Buddha to take you on a delightful journey to experience the enchanting scenery, enticing cuisine, and leisurely lifestyle of Sichuan.

Jiuzhaigou is renowned for its unique high-altitude calcified lake groups, waterfalls, and streams. The snow-capped mountains, grasslands, lakes, and forests create a stunning and colorful landscape, earning it the reputation of being a "fairyland" and "heaven on the earth". Huanglong Temple Scenic Area, known as the "Yaochi on the Earth", is home to the world's largest cluster of calcified colorful ponds, making it a truly unique natural wonder. Sichuan is the hometown of China's national treasure, the giant panda. The Sichuan Giant Panda Habitat is home to over 85% of the global population of giant pandas and is the largest and most complete habitat for giant pandas in the world. Qingcheng Mountain is one of the four famous Taoist mountains in China. It is covered with lush greenery and remains evergreen throughout the year, earning the reputation of "the world's secluded paradise". Dujiangyan Irrigation System, known for its water management system without a dam, has been serving as an irrigation facility for thousands of years, transforming the Chengdu Plain into the "Land of Abundance". Emei Mountain, also known as the "beauty under heaven", is one of the four major Buddhist mountains in China. Atop its golden summit, Buddhist pagodas stand tall, illuminating the world. The Leshan Giant Buddha is the largest cliff-carved stone statue in China. For thousands of years, it has sat beside the surging Minjiang River, gazing upon its people with a magnanimous spirit.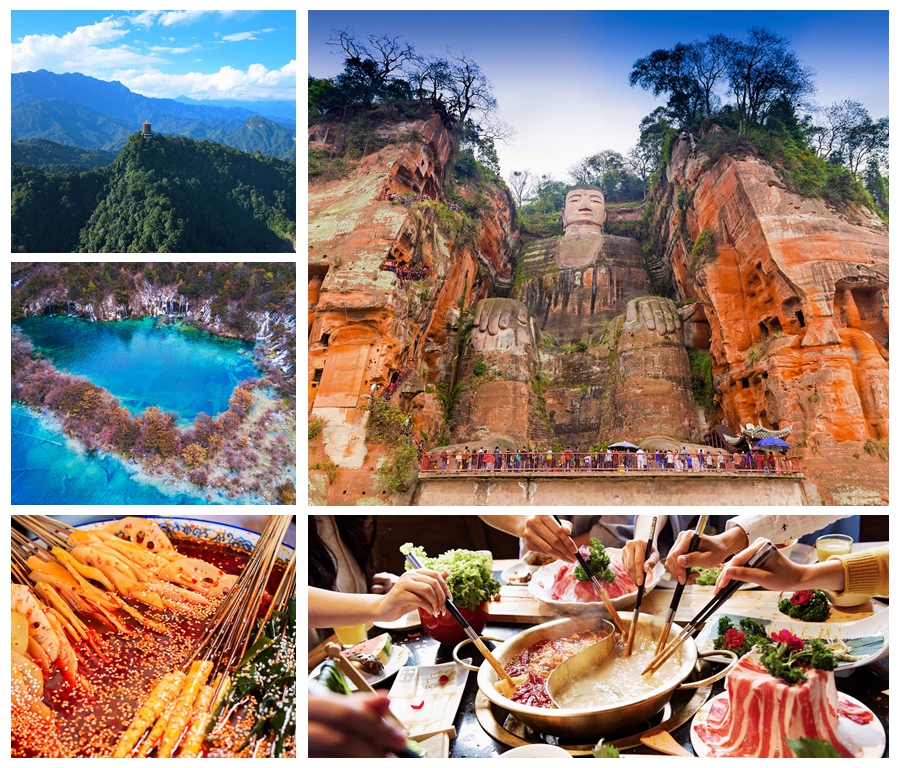 Sichuan, with its breathtaking beauty, has captivating charm in every corner. Here, you will find countless historical sites and a wide variety of flavors and fragrances. Embark on a journey to explore the world heritage sites and indulge in Sichuan cuisine. Sichuan is waiting for you to savor its wonders!